Shop > SINGLE POCKET WET BAGS
SINGLE POCKET WET BAGS
What is a Monkey Foot Designs Wet Bag?
A super-functional bag featuring...
Sizes:
Snack Bags (6.5" x 6.5")

, $9.00: perfect for snacking, wipes, toys, mama pads, ipods, cell phones, and so much more

Small bags (9" x 9")

, $15.50: great for snacks, toys, momma pads, wipes & make-up/toiletries! Also perfect as a cute wristlet :)

Medium bags (11" x 14")

, $18.50: perfect for toiletries, suntan lotion / bug repellent, or 3-4 cloth diapers and wipes when making short trips out of the house (this is the *perfect* size for dipes and wipes!). Also great for carrying your electronics / cords.

Large bags (14" x 16" x 4")

, $25.50: great for dirty children's clothes/bibs/burp cloths and for longer trips out of the house when you'll need ~ 8-10 cloth diapers. Will also fit a pair of women's shoes up to size 9.

X-Large bags (16" x 22" x 6")

, $31.50: appropriate for overnight trips, beach bag, yoga bag, gym bag and ~ 2 days of dirty cloth diapers

X-Large bags with 2 top snap straps (16" x 22" x 6")

, $32.50: perfect for hanging on a changing table / bar

XXL bags with 2 top snap straps (18" x 30" x 6")

, $42.50: holds ~3 days of dirty cloth diapers
Laundering and Care:
Simply throw the bag in with your dirty laundry (either turn it inside out or pull the lining out to make sure the soiled areas get cleaned - see picture below).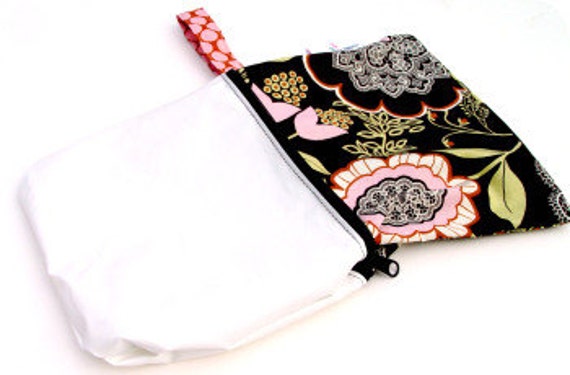 You can machine dry the bags (low heat), but the ProCare will last longer if you hang dry. The exterior fabic can be ironed on the high / cotton setting - do not iron the ProCare lining.